What are Jodhpurs and How It Is Different from Breeches?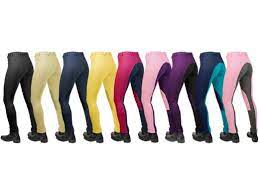 If you are into equestrianism, you need to invest in proper clothing. You need proper riding pants, shoes and other accessories.
It is very easy to hurt your ankles and thighs while riding a horse, because of this reason, equestrians need riding pants.
When it comes to riding pants, there are two popular choices, i.e. Jodhpurs and Breeches. Most professional riders use these pants for riding a horse. It protects your legs from scrapes and improve your grip on the saddle.
Most people get confused between these two pants. But they are different from one another. In this article, we will show you the difference between both pants.
What is Jodhpurs?
It is also known as "Jods". It is a popular type of trouser which is tight-fitting. These trousers reach your ankle and stay snug. There is an end cuff which keeps the pant tight around your ankle.
Riders wear paddle or ankle-high boots over these pants to protect their legs. There is no need to wear a huge or long boot with these pants.
The original pants were the only thigh from knee area to ankle. The pant around the hips was flared and loose. It helped the riders to easily sit on the saddle.
However, the modern pants are snug from top to bottom. As it is made from comfortable stretchable fabric, riders can easily sit on the saddle.
These pants were originated in India. Sir Pratap Singh invented these pants for playing Polo. The comfortable design made it easier to move on the horse and control them.
The snug fit from knee to ankle protected the calf from scrapes and scratches without the help of long boots. When he visited England along with his Polo team, the pants became popular among the British people. They started using these pants for equestrianism.
This type of pants is mostly used by kids who are learning to ride horses. It helps them to easily get the correct leg position. It also helps the instructor to correct the position of their legs. Adults mostly wear it for casual games or for fun riding.
What are Breeches?
It is another type of riding pants. Breeches are very similar to Jodhpurs. However, it only reaches above the ankle. These pants are short. It ends around the min-calf. You need to wear a long boost with these pants, or else it will damage your ankle.
Apart from that, there is no flare around the hips. It is a tight fit from hips to mid-calf. However, as it is made using stretchable material; of clothes, you can easily wear it.
It is mostly used for formal riding. If you are in horse riding school, you need to wear these pants. The majority of the riders use this type of pants for competition.
Both these pants are specially designed for horse riding. The material fabric, design and pattern help you to easily ride on horses without damaging any part of your body.